BUYING GUIDE | AUGUST 17, 2019
Electric Scooter Buying Guide
The Electric Scooter Buying Guide by Apollo Mvmt

19th of August - Apollo Mvmt - How To Guides
How to Find Which Electric Scooter is Right for You and Make a Smart Purchase
The electric scooter market has seen multiple new models appear in recent years. With that many options to choose from, it can betricky to make a decision about whichoneto purchase. Whether you're ready to buy an electric scooter or are still debating, you need to take into account several factors that have nothing to do with price. Your perfect electric scooter will be neither the most nor the least expensive one, but the one that gives you the most of what you need for the dollars you paid. Among these factors are battery, distance range, speed, weight, and maximum load.
It's important to think about your use of the electric scooter and the environment in which you will ride it. If you plan on using your electric scooter to ride to work, you'll be interested in speed and range. If you plan to use it for spontaneous trips to the shopping mall and other such places, you need to add weight to your analysis as electric scooters can be cumbersome if not locked outside. And if you'll be using your electric scooter on hilly or bumpy roads, you need to factor in power and shock absorption as well. The maximum load is also something to take into account depending on your weight.
In addition to figuring out which scooter is right for your needs, you also need to look at the aspects that affect the quality of the ride and your safety while riding. For example, wheels 8 inches or wider are safer as you're much less likely to stay stuck in a pot hole, a dual suspension will absorb more of the shock from bumps, and disc and drum brakes will stop the scooter quickly – though they'll eventually need maintenance. Other types of brakes also work fine, but electric brakes are slower to stop you and foot brakes harder to use. These are all things to consider and to choose from as most models offer combinations with different features.
Xiaomi M365 Electric Scooter
The Xiaomi M365 is one of the most affordable electric scooters on the market, with a price tag of $649.00. It's also the perfect scooter for casual riders who want to ride it across town for leisure or for a short commute. The M365, with its 250W motor, rides at a maximum of 25 km/h and has a 25 km range with one charge. It features a minimalistic design, with its display only showing the battery indicator, and weights 12.5 kilograms, making it easy to carry around. It rides smoothly on flat roads, but it climbs hills slowly. Its wheels are 8.5 inches wide, its pneumatic tires provide shock absorption and anti-slip treads, and it features both regenerative and disc brakes.
The M365 Pro offers same features as the M365, but it has a 40 km range and features a speedometer on the display along with a slightly more powerful motor (300W vs. 250W). This model can prove a good option for those who have a longer commute or simply want to spend more time enjoying their electric scooter without having to recharge it. Both the M365 and the M365 Pro are good starter scooters for those who want to get initiated without spending the big bucks and who will ride it on short distances in the city. They are offered in black and white models, two styles that are going to make heads turn on the street.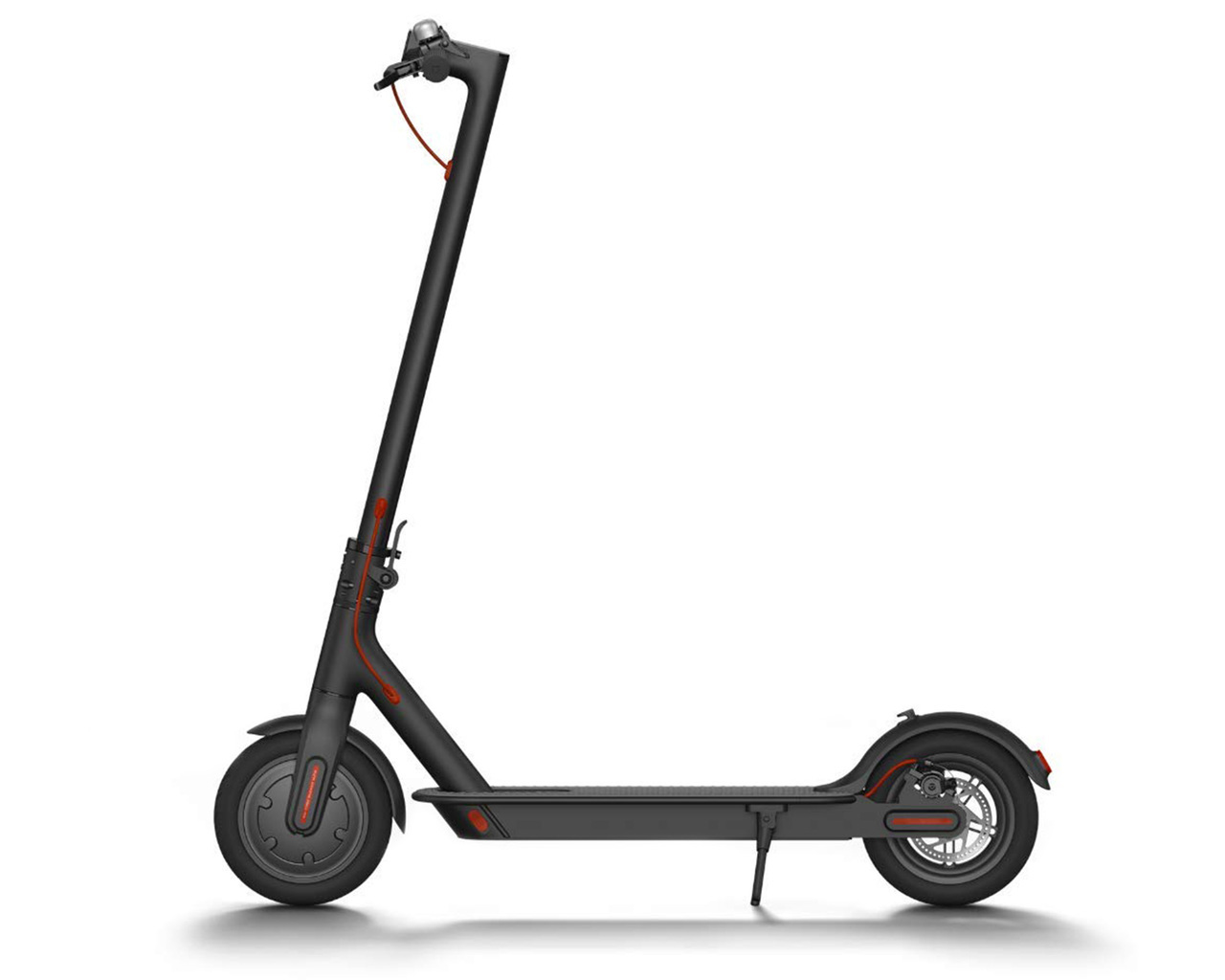 Segway Ninebot Electric Scooter
The award-winning Segway Ninebot Electric Scooter is a great alternative to the Xiaomi M365 for those looking for a scooter with a few more features, without breaking the bank ($799.00). The ES2 model has a maximum speed of 25 km/h and a range of 20 km while the ES4 a speed of 30 km/h and a 40 km range. Its motor has a nominal power of 350w and 750w at peak, as opposed the Xiaomi M365's 250w. It comes with most of the same features as the Xiaomi M365, but it does not have disk brakes – instead it features a regenerative and a physical brake. Both the ES2 and ES4 models come with a speedometer and battery indicators on the display. Lastly, and perhaps most importantly it features a dual suspension in the front and rear.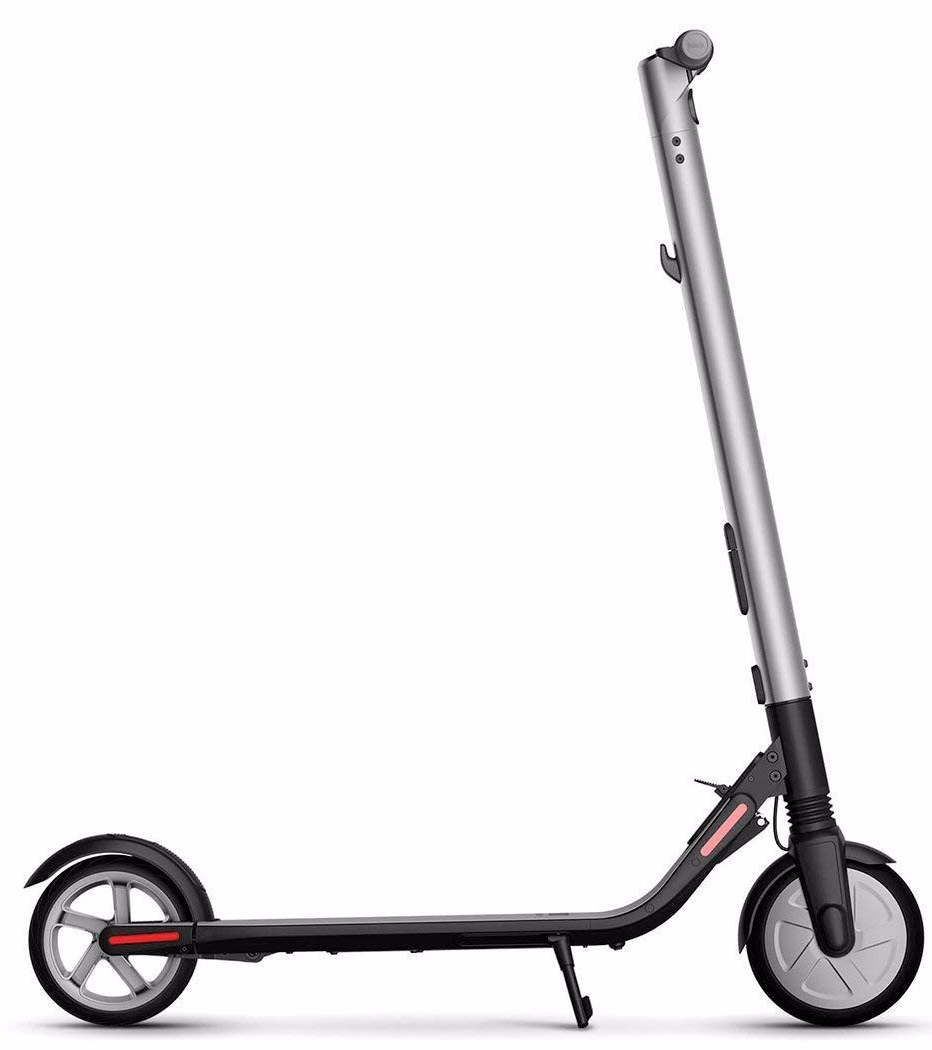 Mercane Wide Wheel Electric Scooter
The Mercane Wide Wheel Electric Scooter is the most affordable of more powerful scooters. With the Base (single motor) version available for $999, its perfect for more advanced scooter riders who want to enhance their experience and perhaps ride on bumpier roads. While the scooter is designed to ride on asphalt and concrete, it also rides well on dirt and other more difficult surfaces. Riders have to be careful not to drive too fast while riding on dirt roads as the powerful motor can make the ride shaky. The base model's maximum speed is 35 km/h and its top range 30 km, but the pro model offers a 45 km/h maximum speed and 40 km range. Both models feature a dual suspension that increases shock absorption, disc brakes, and wide wheels for increased stability on the road. 
While the Mercane Wide Wheel a good scooter for long distances, especially off road, it is not as convenient as the Segway Ninebot and Xiaomi M365 for casual riders who want to carry their scooter around easily. The base model weights 17.1 kg and the pro 20.4 kg. However, it can take a higher load, 120 kg and 150 kg for the base and pro models respectively. When it comes to display features, the Mercane Wide Wheel is fairly basic as it only shows you how much battery you have left, with no speedometer included. If you value the core components of an electric scooter (frame, battery, and motor) you will not be disappointed. If you are looking for something with more advanced features, consider the Evolv series.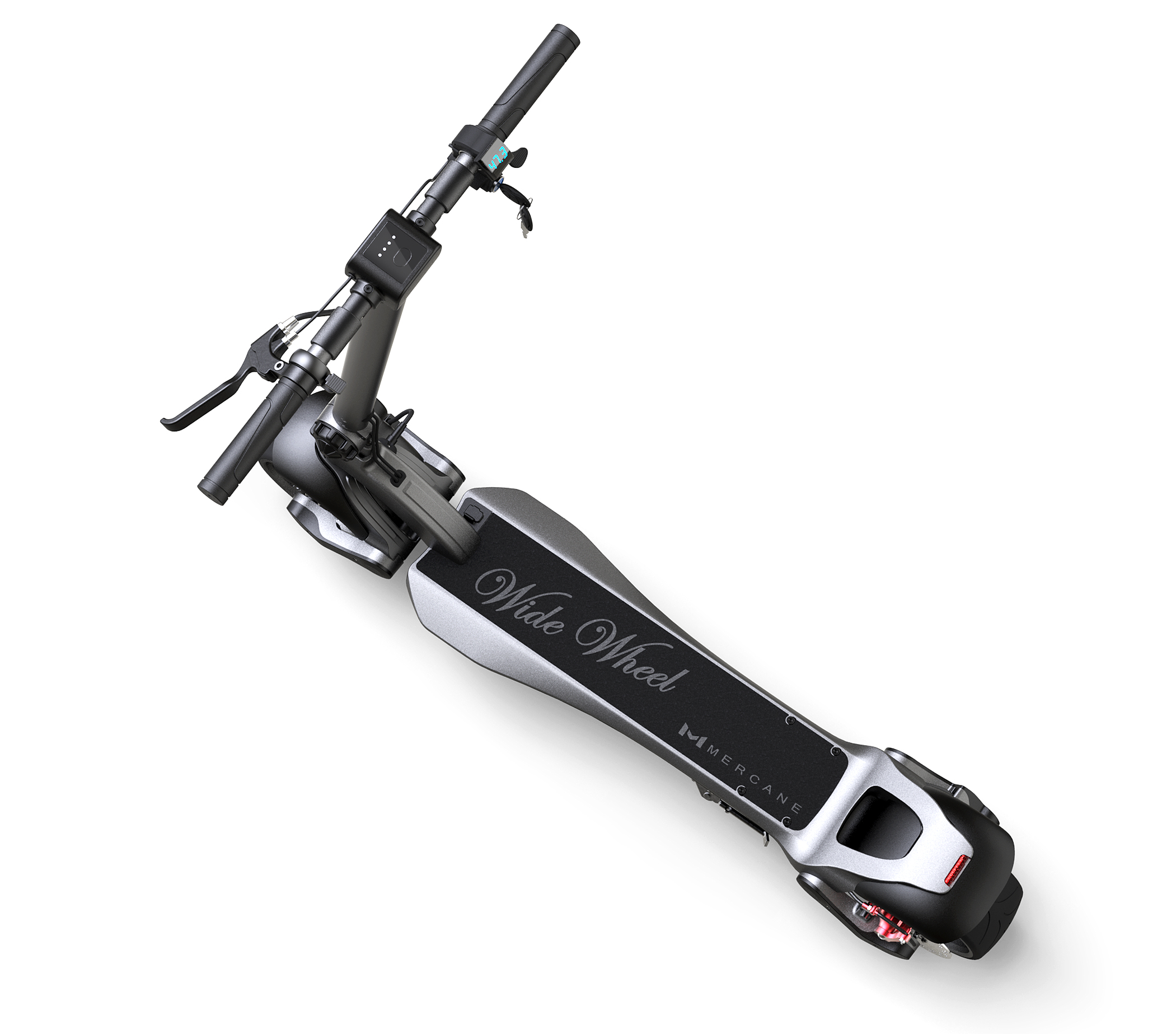 Evolv City Electric Scooter
The Evolv City Electric Scooter, retailing for $1,099.00 is the entry-level model of a range of scooters engineered in Canada by Evolv City, a Vancouver-based company. Bold and uncompromising, the Evolv Cityis an urban version of the Mercane Wide Wheel. Although as powerful as the latter, it weights only 18 kg and is small and convenient when folded. It rides to a maximum of 35 km/h and its range is somewhere between 30 and 40 km. Its wheels are 8.5 inches wide and its motor 350w. It has a front spring and rear hydraulic suspension, allowing for high stability on the road. Overall, this is a good scooter for advanced riders who want the full scooter experience and live in urban areas.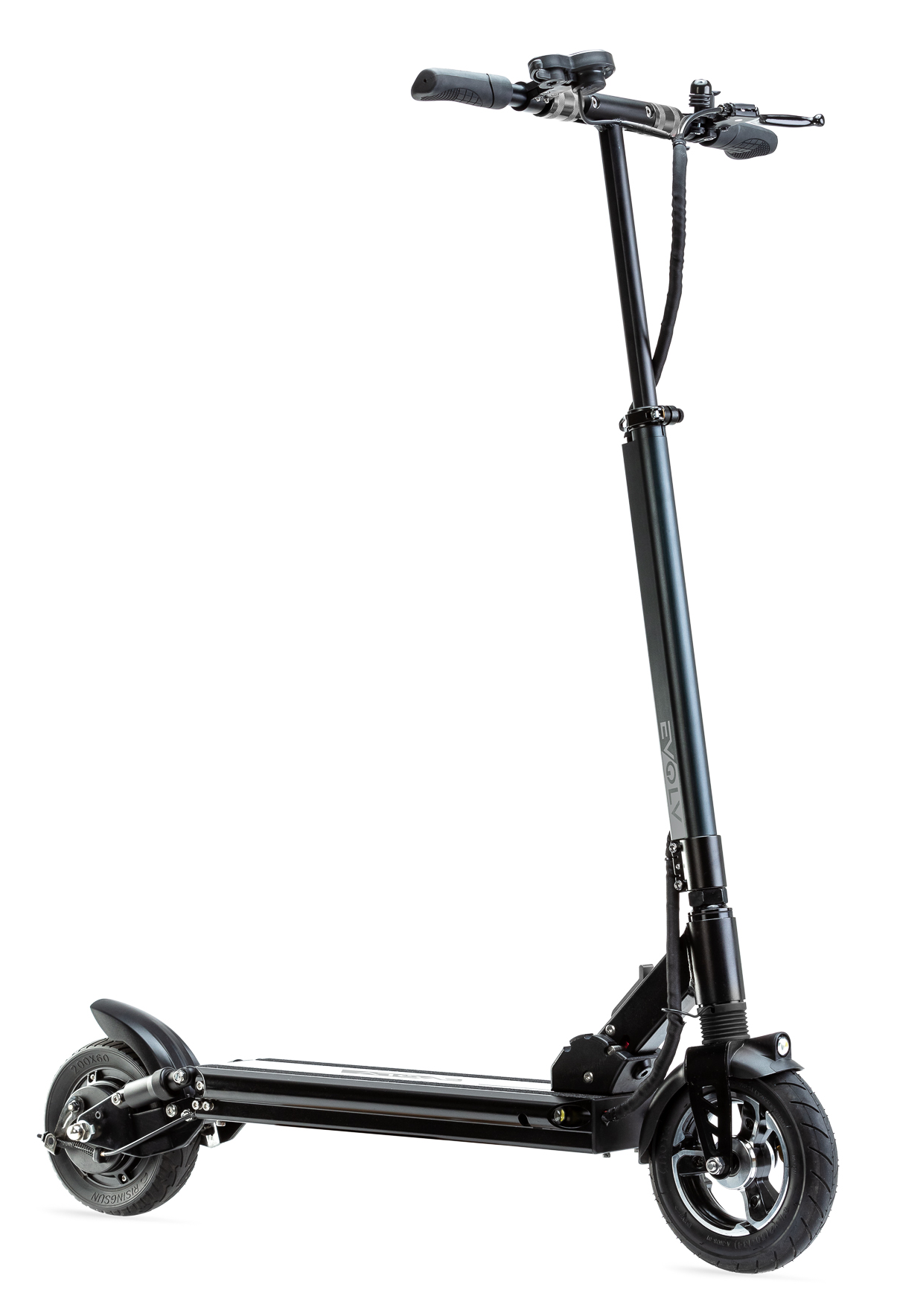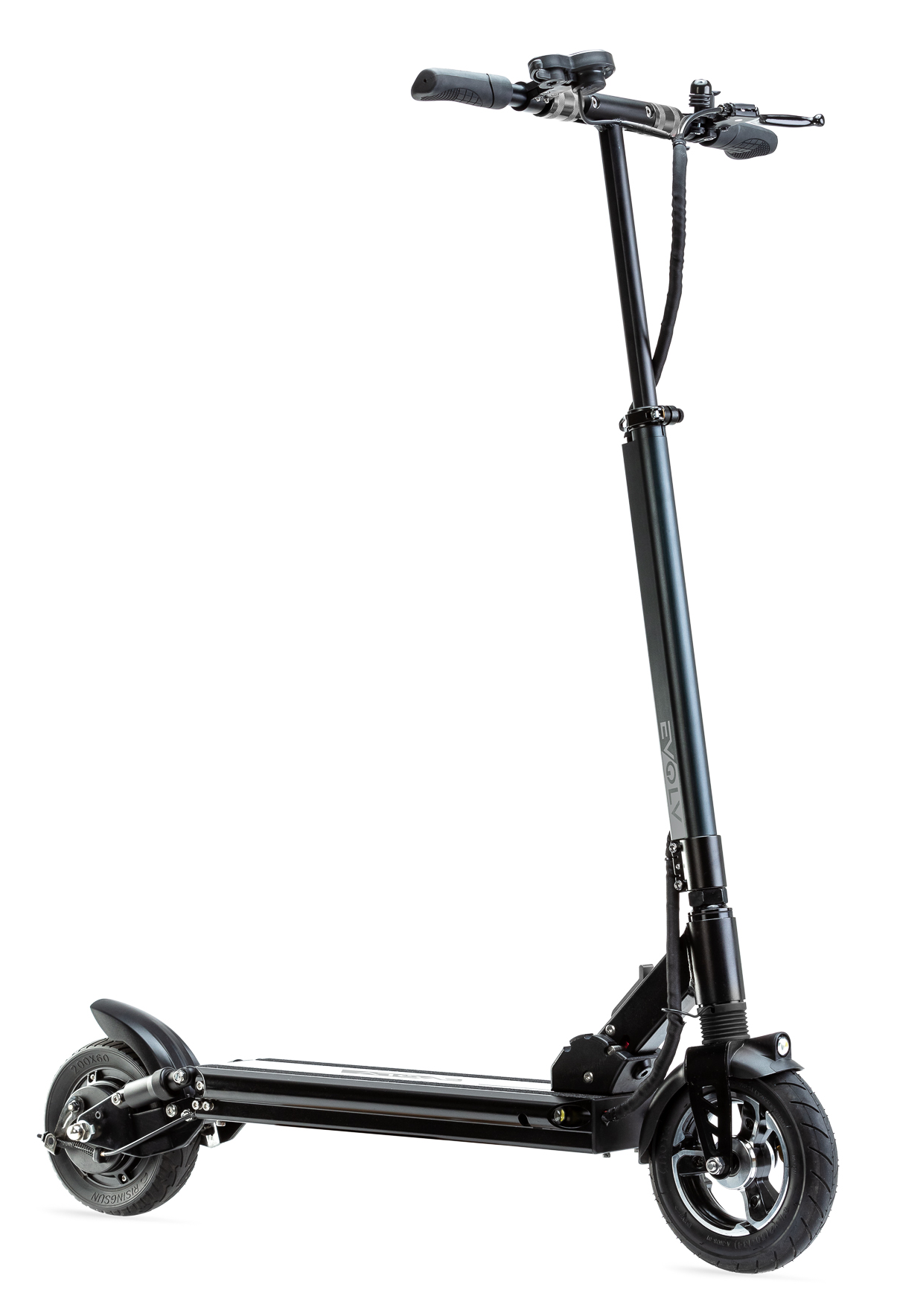 Evolv Tour Electric Scooter
The Evolv Tour Electric Scooter, like the Evolv City, makes no comprises – but it takes the scooter project even further, which justifies its price tag of $1,599.00 Also weighting 18 kg, it has a range of 40 to 50 km and a maximum speed of 40 km/h and is powered by a 500w motor. This is the perfect scooter for hilly environments as it allows to climb hills without losing too much speed. Like its entry-level model, it is easy and convenient to carry when folded, making it a good options for everyone – including those living in cities and occasionally travelling short distances for spontaneous trips.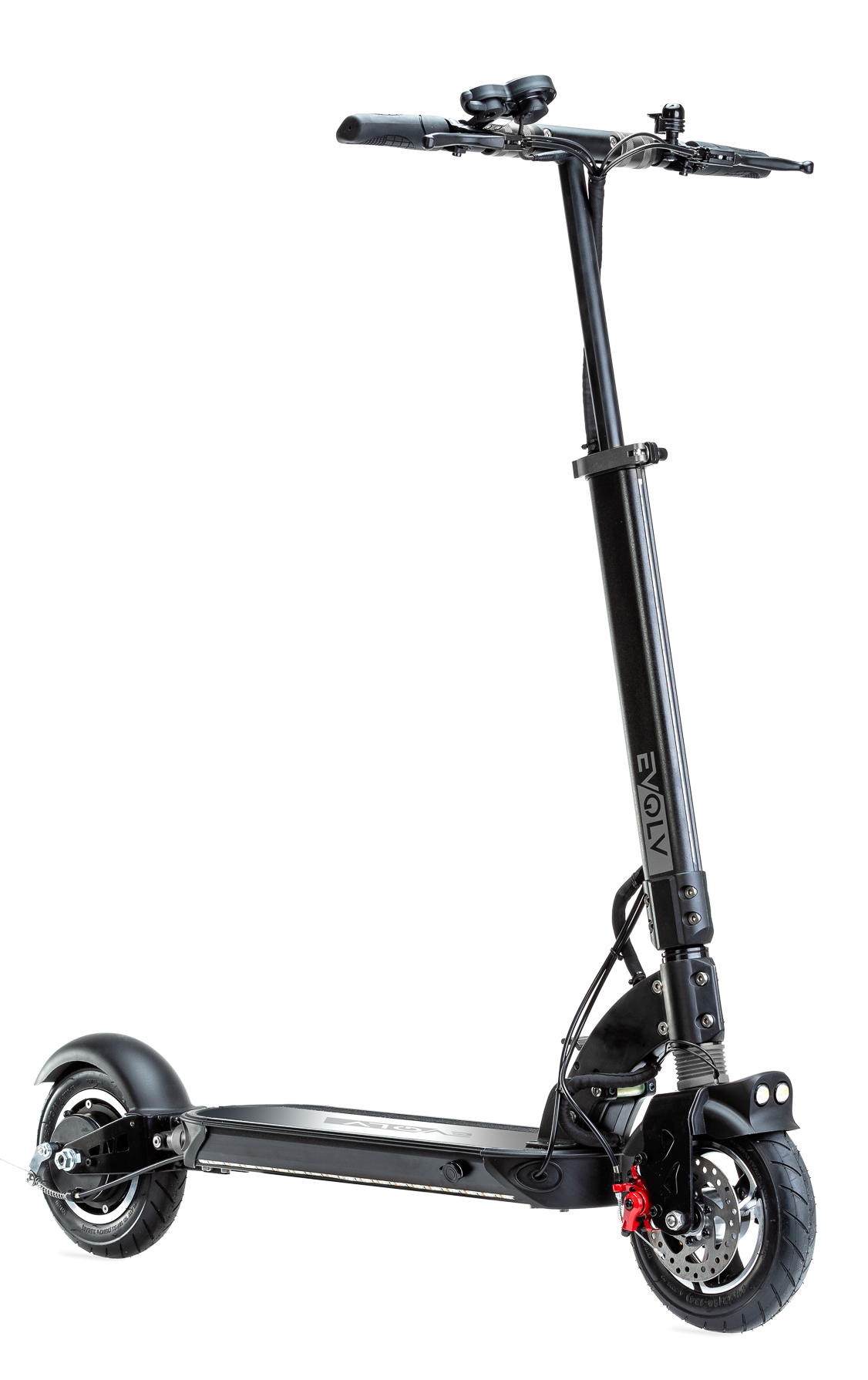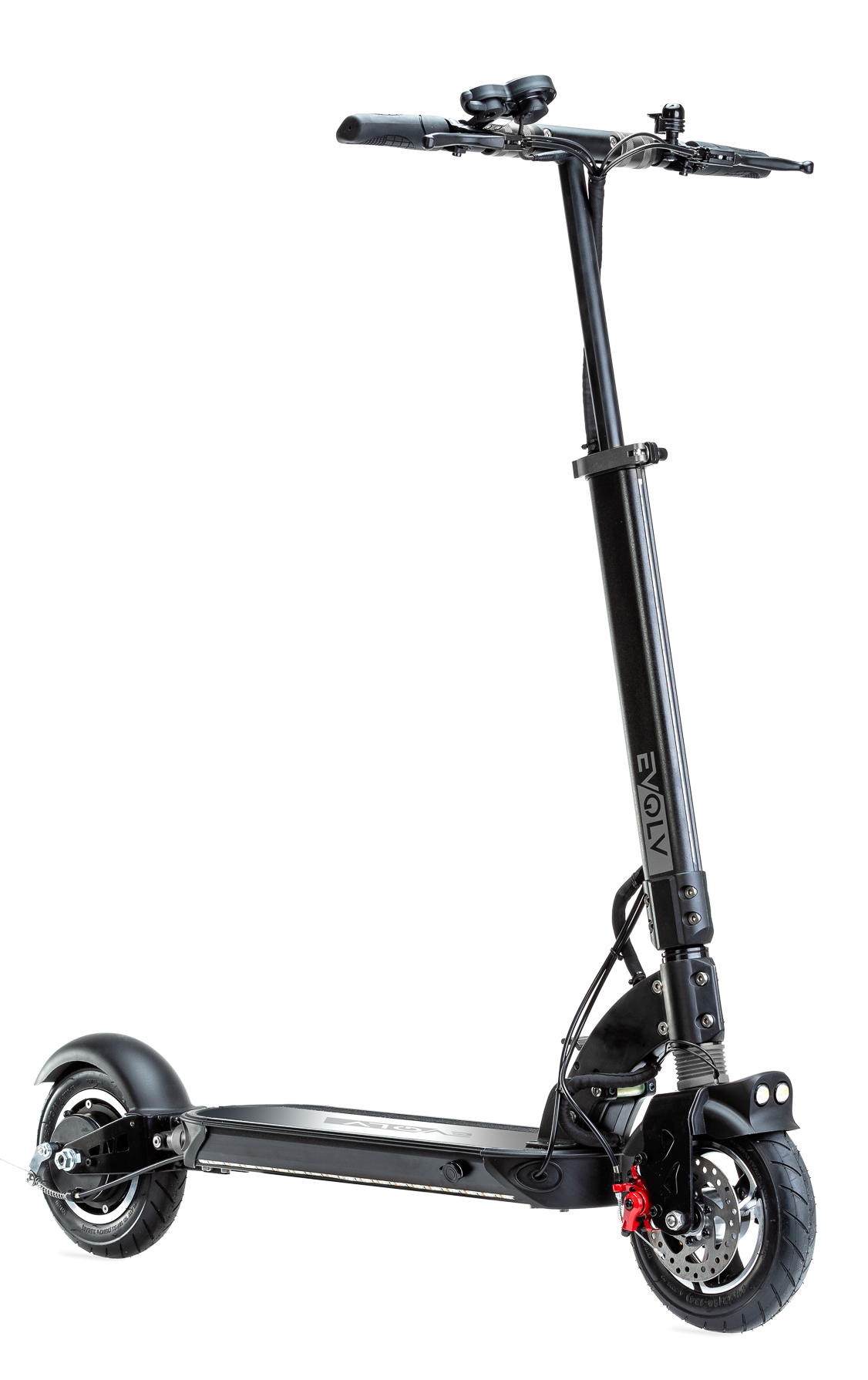 Evolv Pro Electric Scooter
The Evolv Pro Electric Scooter, retailing for $2,199.00, is nothing short of a beast. It's our best performing scooter and one of the most powerful electric on the entire market. It rides at a maximum speed 65 km/h thanks to its 1000w motor and its range stands between 65 and 70 km. Obviously, prudence is recommended with such a high speed, but this scooter is perfect for experienced riders who want flexibility and convenience. It boasts incredible stability and shock-absorption, making it the perfect vehicle for commuting. With this scooter, you'll no longer need a bike or a motorcycle.
The Evolv Pro's maximum load is 150 kg and it has front disc and rear disc brakes, which allows for fast and safe braking. Its tires are 10 inches wide, much wider than most scooter on the market. However, this scooter weights 35 kg, making it more difficult to carry around. It's a highly sophisticated scooter with a stylish, futuristic look that is going to be the envy of fellow riders and other road users.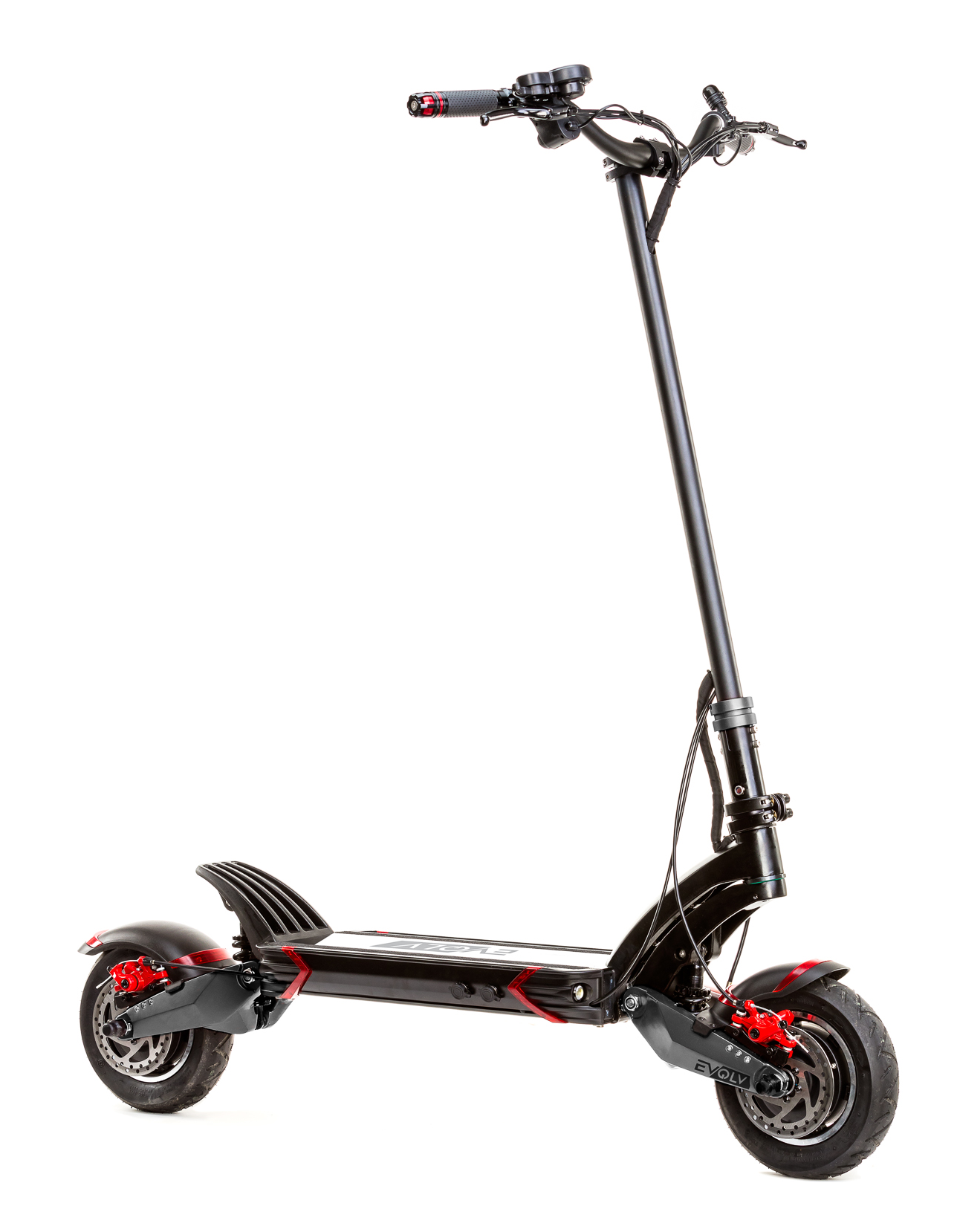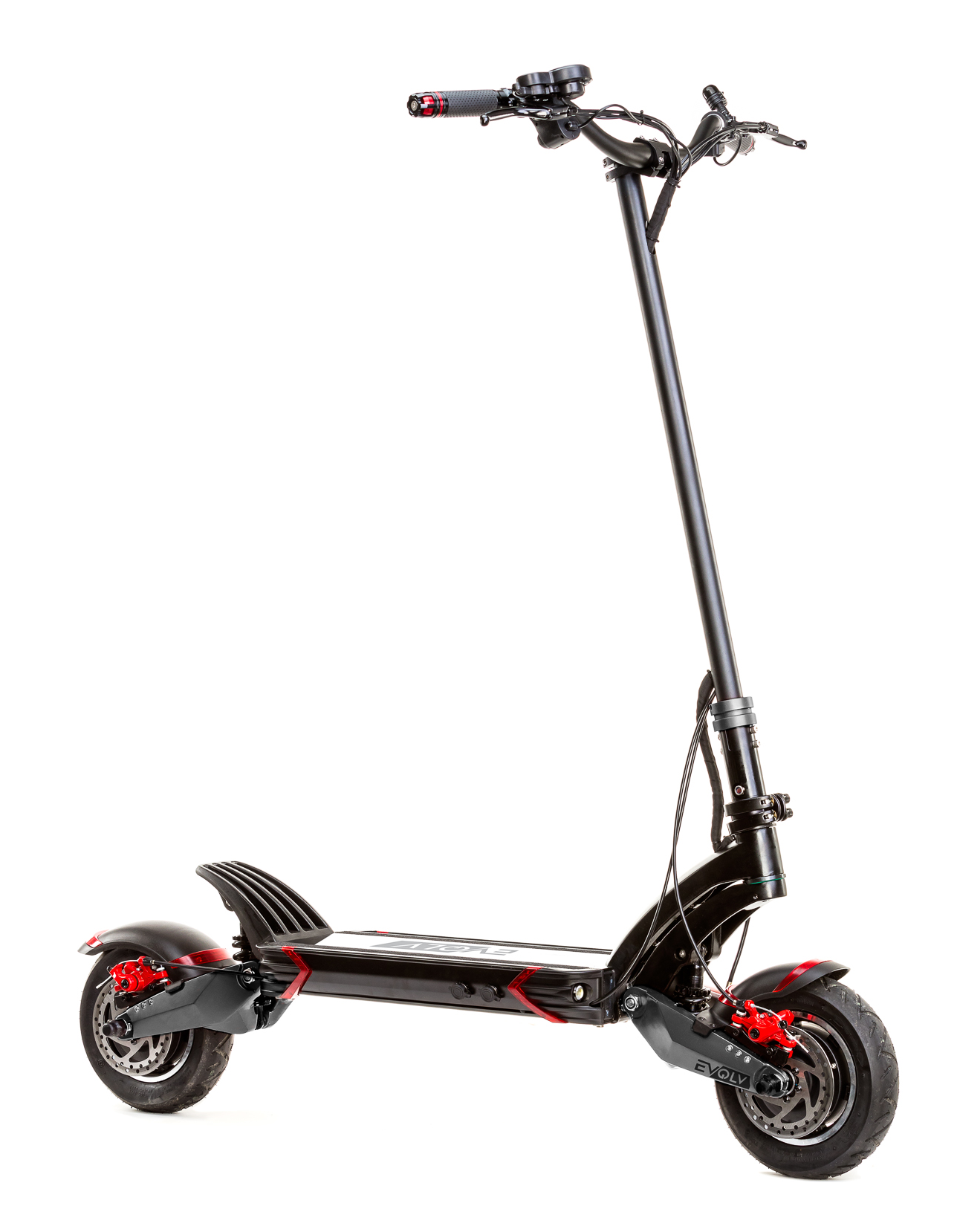 Buying an electric scooter is not a trivial decision. It's not only a significant investment of money, but it's also going to shape your commute and many of your trips. For this reason, you want to make sure to buy the scooter that's right for all of your needs. Beyond price, there are several factors to take into account to make a sound decision about your future purchase. Make sure to read enough to know each models you are considering, and also make sure to try them out. You can book a free test drive with Apollo mvmt in Montreal, Toronto, and Vancouver.
THIS MAY ALSO INTEREST YOU